Pure Cigs CLASSIC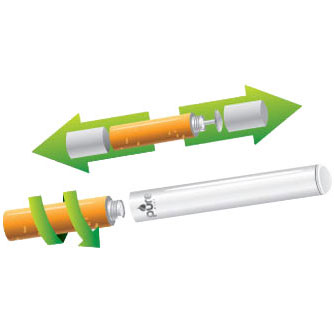 Simply attach a fresh cartomizer to your fully charged battery, then take a puff! Replace the cartomizer when your it stops producing vapor. The battery tip will flash 10 times to let you know when it needs to be recharged.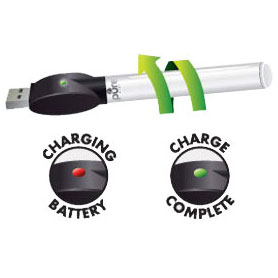 You can recharge the battery on any computer USB port with the included
USB Charger
. The charger LED will shine red when charging and green when charging is complete.
PRO Series Models
Unlocking
The button lock is a feature to keep your ecig from accidental activation. Click the button several times rapidly until the button flashes to lock or unlock your battery.
Charging
Only use chargers and power adapters that are approved for your device! Just because it fits does not mean it is compatible. The same rule goes for USB wall adapters.
Cleaning
You should regularly clean the contacts on your battery. It is best to use a cotton swab and rubbing alcohol, but a tissue or wet wipe will suffice for a quick clean.
Filling tanks
Top Coil
• Unscrew the mouthpiece and hold the tank at a 45º angle

• Insert the bottles needle tip into the tank, avoiding the center

• Fill the tank up to the top fill line
Bottom Coil
• Detach tank from battery and unscrew the base of the tank

• Hold the tank upside down at a 45º angle

• Insert the bottles needle tip into the tank, avoiding the center

• Fill the tank up to the top fill line
Replacing tank atomizer heads
When your tank begins to produce very little vapor, excessively floods, and/or produces a burnt taste, it may be time to change your atomizer head.

• Make sure your tank is empty of e-liquid

• Unscrew and detach the bottom base from the tank

• Unscrew and detach the atomizer head and screw a new on in its place

• Screw the base back into the tank
Fixing a flooded tank
Is your tank gurgling and spitting liquid at you? A flooded tank is caused by liquid flowing faster than the atomizer can handle, usually due to puffing too hard or fast on your ecig, overfilling your tank, or an underpowered or used up atomizer.

• Remove your tank from the battery

• Hold a paper towel or wet wipe to the threaded end of a top coil tank, hold it to the mouthpiece on a bottom coil tank

• Blow air through the tank several times to remove excess liquid

• Wipe down the contacts and mouthpiece before reattaching tank to battery
Tips & Tricks
Storing your e-cig
It is best to disassemble your ecig and store it in a proper carrying case when not in use. Storing your e-cigarette in your pocket can cause damage to the battery or tank.
Proper Puff
Whit traditional cigarettes, quick and deep inhalation is the key to getting a big cloud of smoke. With E-Cigarettes the exact opposite is true. The key to a big vapor cloud is a slow and steady puff! Inhaling too quickly and deeply can flood your tank and cause unbearable throat hit.
Primer Puff
When using a new tank or atomizer head, or when the liquid is simply not wicking to the atomizer well, you may experience what is calle da "dry burn". To remedy this, take several puffs without activating the acig to get the liquid flowing and prime the atomizer.
Advanced Battery Safety
NEVER STORE LOOSE BATTERIES
Always store batteries in a proper case when not in use. Loose change and other objects can easily cause an electrical short.

NEVER STACK BATTERIES OR USE THE WRONG BATTERY IN YOUR DEVICE
Don't do something stupid just because somebody on the internet tells you to. You should always use a single High Drain IMR battery in mechanical mods.

NEVER CHARGE UNATTENDED OR ON FLAMABLE SURFACE
It is best to charge your device under close supervision on a concrete or natural stone surface, or inside one of our LiPo safe charging bags.

NEVER USE A BATTERY THAT IS WARPING, DENTED, SCRATCHED OR PEELING
A battery that is mis-shaped or shows significant wear may have been overcharged, overdischarged, or otherwise damaged and is unsafe to continue use.