XL Starter Kit
If you're looking for maximum vapor production then the XL was built just for you! The XL is unrivaled with nearly three times the battery life, three times the puff count, and dual atomizer coils to make the best electronic cigarette.
IN THE BOX:
2 - XL Batteries, 1 - USB Cable, 4 - XL Refills, 1 - User Manuals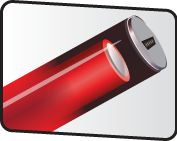 XL Battery
Pure XL is driven by a long life 650mAH lithium polymer battery. It is operated by a push button to give you full control over the device. The built in charger makes recharging your XL a snap with any Mini USB cable.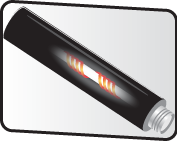 XL Cartridge
Our high capacity XL cartridges push the limits with nearly three times the standard capacity. They're driven by dual atomizer coils for ultimate vapor production!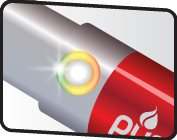 Battery Indicator
Eliminate guesswork with a color coded battery level indicator. The XL's button illuminates green, amber, or red during use to let you know when its time to plug in. It will flash red when it needs an immediate charge.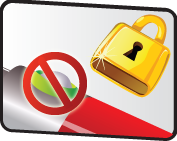 Button Lock
A nifty button lock feature prevents unintentional activation when storing XL in your pocket or a purse. Simply click the button three times to activate the button lock, and again to disable it.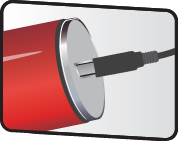 USB Passthrough
The built in USB charger doubles as a passthrough so you can keep smoking while XL recharges! Simply press and hold the button while plugged in and XL will switch to direct USB power to keep smoking.
Best one out there!
Posted by Guest
on 04-07-2013
This is the best E-cig on the market.It produces the right amount of puff every time.I would recommend this to anyone who is [REDACTED].Go no further,it's a click away.I would like to see a case made for this so I don't have to dig around in my purse to find it.

**Note: A portion of customer's review has been edited due to smoking cessation claims. We are not allowed to make smoking cessation claims nor publish customer comments which contain such claims.**
Recommended to buy: Yes
Very pleased with my Purchase!
Posted by Carolyn L.
on 03-01-2013
Well, I am about one week into being a NON-SMOKER!! I decided that I would use e-cigs to help me... The day I decided to quit I went down to the gas station and bought a disposable e-cig. It sucked! So I went back and bought a starter kit of a different brand. It was a bit better, but I still wasn't getting a hit like I wanted. I decided to order the Pure XL after doing some research online. I received my XL today. (only took 3 days to get here!!) I plugged it up and took a puff... WOW!! Sooooo much better than this crap from the gas station!! All week long, I've had a hard time staying a newly non-smoker just wishing for one good drag off of a cigarette! I may not have made it another day before I cracked and bought a pack of cigarettes! But, now that I have my Pure XL I will be able to stay a non-smoker for sure!!! Thank you Pure!!! ...Now I'm gonna have to try all the different flavors! :)
Recommended to buy: Yes
GET IT
Posted by Jason P.
on 02-27-2013
I had the original pure E-cig and it wasn't bad. After a while it seemed to not give me what I wanted from a regular cigarette. The regular one is good, but there was something missing and I wasn't sure what it was. After reading the reviews here I tried it and I realized now why everyone kept saying "throat hit". That is what I was missing and man this thing does it. I am done with regular cigs as this gives me what I was missing. It also works with my old cartridges which is nice as well. I never do reviews but I felt the need to post here. Take it from someone who wasn't sure.. you cannot beat this for the price... stop thinking, just get it.
Recommended to buy: Yes
This Is The ONE
Posted by Guest
on 01-20-2013
Pure really seems to have the highest standard in e-cigs. And, despite being a bit frustrated at changing their design over a year ago, I must admit that it has been an improvement. The XL is what I've been wanting because it is such a potent "hit". Battery recharges superfast. With the XL, you don't have a reason to keep smoking cancer-causing cigs, except for being "hard-headed". If the nicotine punch is what you want without destroying your health in the long-run, this is the one to hit.
Recommended to buy: Yes
powerful
Posted by Guest
on 10-02-2012
I was so frustrated with other brands that I went for the XL for max throat hit. It is ridiculously powerful! Going for lights next time. I will never buy a pack of cigarettes again!
Recommended to buy: Yes
Awesome Product!
Posted by Melanie P.
on 02-15-2012
I have been using the XL for a little over 2 weeks now. I never knew quitting the real thing would be so easy with this product! I love it. I work long hours. So being able to have a battery life to last over 10 hours on one charge is ideal for me. If I do need to charge it ( forgot to over night) I can use the USB on my car stereo.I also like how fast the battery recharges. Another nice thing is being able to charge and use it at the same time. Many other E cig. haven't figured that out yet. I also, would like to see a case or something I could store it in when not being used. I am so happy I did my research and chose Pure. It makes quitting so much better!
Recommended to buy: Yes
Super Awesome!!!
Posted by Kevin S.
on 02-10-2012
This little thing packs a huge punch!!! Better get one for yourself at this price!! Lots and lots of strong vapor....but don't take my word for it.....try it for yourself!!
Recommended to buy: Yes
it has been yr now no smokes
Posted by Ron L.
on 09-29-2011
25 year 2 pack a day smoker and I will tell you that I never thought it would Man was I wrong the advancementskeep comeing This one is this one is the best so far and that's all.
Recommended to buy: Yes
Amazing
Posted by Katherine W.
on 09-23-2011
I decided to give the Pure XL a try after much thought, research and comparison. I think that made the best choice. The Pure XL was everything that it was advertised to be. I'd love to see a case and a way to have the end cap attached to the battery. I use the Pure XL with the standard cartridges and I've been smoke free for about a month. Thanks!
Recommended to buy: Yes
Oh, one more thing
Posted by Damion H.
on 08-19-2011
It would be nice if the little end cap was attached to the item somehow. I think i lost it xD
Recommended to buy: Yes
Rating:
Subject:
Text:
Do you recommend this product to buy?
Add review