Deluxe Kit G4
There's nothing worse than a a dead battery when you're nowhere near a power outlet! The deluxe kit has you covered everything in the starter kit plus a Pure Pack portable charger set so you'll always have a fresh battery.
INCLUDES:
1 - Pure Pack, 1 - Carrying Case, 2 - E-Cigarette Batteries, 4 - Refill Cartridges, 1 - USB Battery Charger, 1 - USB Cable, 1 - Wall Adapter, 1 - User Manual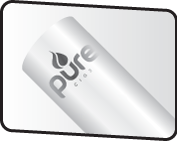 Battery Unit
The battery unit contains the high power 220mAH Lithium Polymer cell that powers your E-Cigarette. The blue LED tip lights up to let you know that it is working, and flashes when its time to recharge.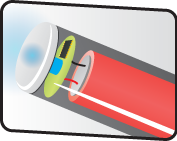 Smart Circuitry
Airflow sensors ensure that your E-Cigarette activates only when you intend it to. Built in protection circuits prevent the battery from overheating, overcharging, or overdischarging.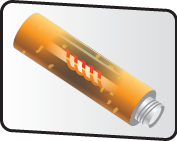 Nicotine Cartridges
The cartridge functions as both the mouthpiece and the workhorse of the E-Cigarette. Each refill contains a fresh atomizer coil built in for consistent vapor production and performance.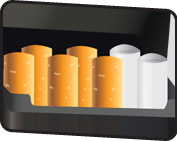 Carrying Case
The durable hard case's rounded corners and soft rubberized finish gives an elegant upgrade to the traditional cigarette pack. With space for 2 batteries and 6 refills you'll always be prepared for the day.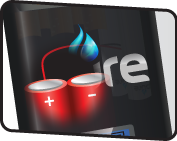 Portable Charger
The Pure Pack's built in battery cell recharges your e-cigarette batteries up to 5 times to keep you going. Smart circuitry automatically detects when a battery is finished charging.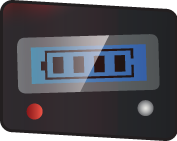 LCD Display
The front-side backlit LCD display eliminates guesswork by letting you know when it is time to plug in and recharge your pack.
Works great but need more info
Posted by Guest
on 04-19-2013
I just got mine and couldn't wait to try it. Had regular cigarettes left but didn't smoke them all day after trying the electronic one. Very happy with it but wish they would tell you what strength of nicotine you are getting with the starter pack. High? Medium? I can't find anything that tells you. I recommend the deluxe one with the recharging pack. Makes it really easy to grab and go and you don't obsess over making sure it's charged before going out for the day.
Recommended to buy: Yes
Completely speechless!
Posted by Renee M.
on 03-23-2013
I tried my first e-cig about a month ago. It was a disposable BLU. (The original tobacco) It tasted strong with a coffee after taste. I liked it and thought I would buy the menthol flavor. I smoked Camel Menthol(Green), which is a strong menthol, but the BLU just did not satisfy. I began looking around and researching about E-Cigs and I came across the Pure. I did as much research as I possibly could and decided to order this starter kit. To hold me over I bought some E-Cig from the local corner store. That was a MISTAKE. I'm unsure of the name of the brand, but that was not the best idea in the world. Once I ordered this kit, I was so nervous that it wouldn't be what I expected. I continued to do more research about other E-Cigs, and I continued to see mixed reviews. One of my friends went to the local tobacco store and got a "Smart Green Living" E-Cig, and surprisingly, for a 20.00$ starter kit, it was a good flavor, and much more stronger than the BLU, but I was just so nervous about spending money on the Pure. I read that it was not a well known brand, but I still gave it a shot. I ordered my starter kit about four, now five, days ago, and I got my kit in yesterday. I was so excited. I opened up the package and right away it smelt of a pleasant menthol. I opened up the actual kit, which contains the two batteries, plus the cartridges and the the USB/wall charger, and it looked so slick. I got my Pure in black with the blue LED because I liked the style from the BLU.
I read the Manuel, which Is strait forward and to the point, but helpful, and I right away twisted my cartridge into the battery. I took my first puff! I was astonished! It was a STRONG menthol flavor that tasted EXACTLY like a Camel Crush Bold (with the ball popped). I absolutely LOVE my new Pure E-Cig. I can't explain further how much it tastes and feels like a real cigaret. It has truly blown me away. I know I researched EVERYWHERE for reviews about Pure, and I just want others to know that Pure is the closest substitution for a real cigaret. I would recommend this to EVERYONE! I give this kit five stars all around. If you are truly wanting to quit smoking, this is the brand for you!
Recommended to buy: Yes
In comparison to Blu...
Posted by Joseph P.
on 02-06-2013
The design is sleek and comfortable, I am most impressed with the draw that pure provides, definitely better than an analog cigarette. The only suggestion I would have for pure is to follow Blu's lead in using glycerin as opposed to propylene glycol in the smoke juice to improve the taste. If they did that this product would surpass all competing e-cigs. Otherwise, I say this is as good as any of the top name e-cigs.

[Editors note: Joseph, the information you've been reading online has mislead you slightly... Propylene glycol is precisely what gives ecigs the 'throat hit' that feels like smoking, while vegetable glycerine gives it more of the visible vapor that you see. Most ecigs have both. Removing PG would give you a visible vapor while feeling like you're just puffing on air, like the other brands you mention. It is precisely why we have more of that throat hit!]
Recommended to buy: Yes
4 Weeks Without a Smoke!
Posted by Michael B.
on 09-08-2011
Got the deluxe starter pack 5 weeks ago. It's been 4 weeks since I last had a tobacco cigarette! I had a couple of problems (with a charging pack and a battery) and Pure was very helpful and quick to resolve my problems. I'm recommending Pure cigs to all my friends. Very happy with this company and product. Only wish they sold these in stores......
Recommended to buy: Yes
Robin C.
Posted by Robin C
on 05-24-2011
I love this e cig and so far I have not smoked a tobacco cigarette in almost a month
fantastic !!!
Recommended to buy: Yes
lots of smoke
Posted by Tamera S.
on 04-08-2011
I really like the volume of smoke, right from the first puff. Cartridges last a long time and they work well.
Recommended to buy: Yes
Long Time Smoker
Posted by Jeremiah L.
on 04-01-2011
I smoked for 20+ years and I recently had a heart attack at 36 yrs old. I was skeptical of the "E-cig" but found it to be a GREAT product!!! It has been great using your product for 10 months now and has been enjoyable. I've tried others and this one has it all - Battery pack for on the go and the USB chargers etc... Saves a lot time and frustration for sure!! Anyone out there who is skeptical - I challenge you to give it an HONEST try - I think you'll be wonderfully surprised. Thanks PURE - I'm on the road to great health thanks to the help of PURE E-cigs!!!
Recommended to buy: Yes
The Love for Pure
Posted by Stephanie V.
on 03-17-2011
I LOVE LOVE LOVE the pure e-cig!!!!! I have been smoking since i was 15 and im 26 now. I have tried several times to quit smoking. I bought this starter pack and I havent had any problems with it AT ALL!! I havent had a tabacco cig in 2 weeks! I plan to quit eventually but this is a great alternative solution to high cost of cigs. The cartridge is about equal to one pack of cigs.
Recommended to buy: Yes
My Thoughts
Posted by Juan R.
on 02-22-2011
GREAT PRODUCT!
Recommended to buy: Yes
Fast Shipping
Posted by Ryan A.
on 02-13-2011
Came in two days!! Best service ever!! I returned my Blu cig and soo glad I did
Recommended to buy: Yes
Rating:
Subject:
Text:
Do you recommend this product to buy?
Add review